English: Lost in Translation – New York Stage Review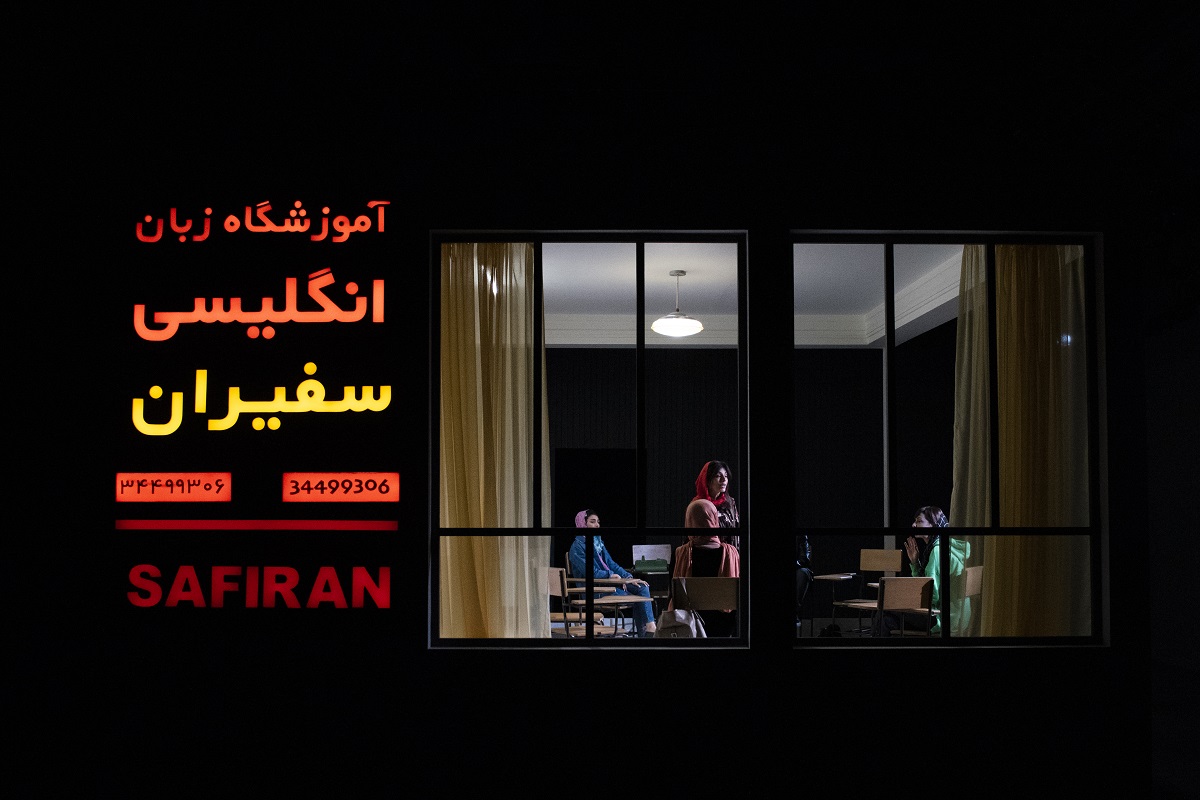 If you've ever tried to learn a foreign language in a classroom, you know the process can be frustrating, repetitive, and often tedious.
Sanaz Toosi's play Englishwhich is now getting its world premiere at the Atlantic Theater Company, conveys that experience all too well.
Set in Karaj, Iran, in 2008, the play depicts the efforts of four adult Iranians – three women and one man, aged 18 to 54 – to study the TOEFL, or Test of English as a Foreign Language, under the tutelage of their instructor Marjan (Marjan Heshat), who lived for several years in England. As they do their various exercises, which involve throwing a ball at each other while shouting English words for things that are green or that you find in a kitchen, we gradually learn small details about their lives, their motivations and feelings about learning a new language.
[Read David Finkle's ★★★★☆ review here.]
But not enough. The play remains stubbornly undramatic, devoid of any narrative propulsion, and sadly devoid of details that would make the characters or situations interesting. Eventually, a few small plot twists emerge: a light flirtation between Marjan and a much younger student, Omid (Hadi Tabbal), who already seems to speak surprisingly good English; another student's (Tala Ashe) inability to tone down her very strong accent, prompting Omid to condescendingly call her "Borat"; and the failed efforts of the oldest student in the class, Roya (Pooya Mogseni), to connect with her adult son living in America who seems to ignore her frequent phone calls.
The young Iranian-American playwright (who also has another play, wish you were Here, premiering in April at Playwrights Horizons) seems to be interested in exploring how language affects our cultural identities. But even this promising theme seems barely touched on, and jokes about things like Julia Roberts-starring cinematic rom-coms turn out to be mildly amusing at best. Cheap laughs involving student verbal mistakes abound. Occasionally there is a ringing line of dialogue, such as when one of the students comments that "English doesn't want to be poetry, like Farsi", but then another exercise in rote teaching begins and interest quickly wanes.
It doesn't help that the dialogue, almost all spoken in English, alternates between English and Farsi, which sometimes makes it hard to tell if the characters are speaking in their native language or the one they're trying to learn ( when they speak English, their accents disappear). And that's when you can make out the lines; despite the intimacy of the theatre, the soft-spoken performers often fail to make themselves heard.
Director Knud Adams staged the play for minimal impact, making the production's 105 minutes without intermission much longer. Then there's the odd design choice of a totally unnecessary revolving set, complete with pillars, ensuring that at some point almost everyone in the audience will have a partially obstructed view. Presumably, this was meant to provide different points of view on the actors, but it would have been much easier, not to say cheaper, if they had just moved the seats around occasionally.
Apart from the voice projection issues mentioned above, the performers are not to blame. They make the most of their finely drawn characters, with Tabbal delivering a charming performance as a male student harboring secrets and Neshat affecting as a teacher who finds herself questioning her values. But their efforts aren't enough to stop you from desperately wanting to cut this class.
English opened on February 22, 2022 at the Linda Gross Theater and will run until March 13. Tickets and information: atlantictheater.org