Translator for the Pope: indigenous languages ​​threatened with extinction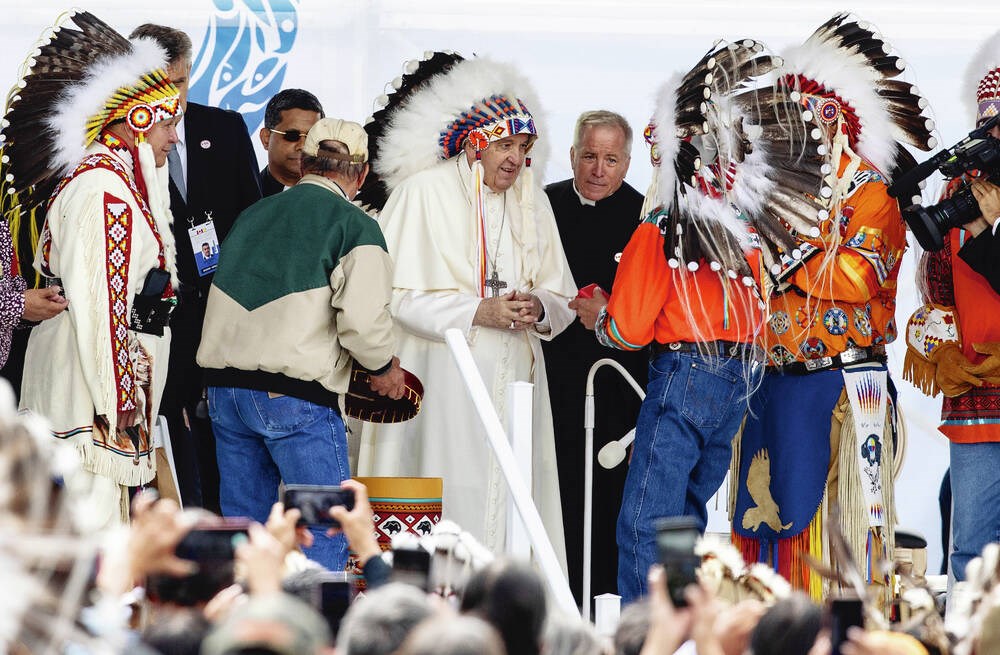 Elder Henry Pitawanakwat says Indigenous languages ​​are at risk of extinction.
SASKATOON — Elder Henry Pitawanakwat is making a passionate plea to help native language speakers like him preserve one of the most important parts of their culture. He hopes that Pope Francis' week-long visit to Canada will have helped raise public awareness of this issue.
Pitawanakwat works on a contract basis to translate and transcribe the Ojibwa language at the Translation Bureau of Public Services and Procurement Canada, the federal government department responsible for internal service and administrative activities.
"I work for the government's Translation Bureau here in Ottawa. I've been working with them since 2018 and it's mainly for the federal election debate, but we have side projects," Pitawanakwat told SASKTODAY.
The Translation Bureau is a branch of government that serves the public by communicating in the two official languages, English and French, and in Aboriginal languages ​​such as Cree, Dene, Ojibway and Chippewa.
Pitawanakwat is a language keeper and knowledge holder of the Three Fires Confederacy. He speaks Anishinaabemowin and is fluent in Algonquin, Chippewa, Odawa, Ojibwe and Pottawatomi.
He said efforts should be made to preserve indigenous languages ​​by teaching them to the next generation since the bearers, custodians, speakers and translators of the language are not getting any younger.
"All speakers of the language, [Indigenous] language translators and language teachers, we are all adults. You're not going to find any that's young today. If there are, they are very few," said Pitawanakwat, who is passionate about revitalizing Indigenous languages.
His passion for reviving indigenous languages ​​spans all aspects including speaking, teaching and sharing knowledge, and is evident in his more than 40 years of work as an archaeologist and translator of all dialects of 'Anishinaabemowin at the History Museum in Gatineau, Quebec.
He said it is the duty of language bearers, custodians, speakers and translators like him to raise awareness of the state of indigenous languages ​​across the country as they seek help from authorities for any assistance. .
"We are rapidly losing our language. It is quickly threatened with extinction and we need help. That's what's important to me. Yes, it is my duty here. It is my duty, speaking with you at this time is to create awareness of the situation," Pitawanakwat said.
Indigenous languages ​​hold knowledge
"What people don't understand is that Indigenous languages ​​are very unique. It contains a lot of knowledge, not only about the past, but to save the future of the planet for our future generations. We need to start thinking about our future generations.
He said Indigenous communities should get compensation to repair the damage caused by cultural genocide caused by years of efforts to assimilate Indigenous children into Western culture. Children who attended boarding schools were punished for speaking their native language.
"If they start funding us, [like] the Jesuits [Society of Jesus] to repair the damage because our elders, our grandmothers and grandfathers, our parents were severely punished in the residential schools simply by using their language. We need compensation for this," Pitawanakwat said.
"We have been made dependent on money. Money has never meant anything to my people and now we cannot do it without money. We need funds to set up immersion schools for save our language and our culture Share the wealth of our knowledge with the world.
He added that there are funds from the federal government, but they have to compete with other indigenous communities across the country and if they get money for a project or program, it will not be enough. to maintain it.
"We have to do it and it's a very critical point of what I'm trying to create awareness for. What they [federal government] I don't realize we have so many communities across Canada and there are barely enough to do anything. This is a serious problem," he said.