Vasco Electronics Launches Newly Upgraded and Redesigned Translator, Helping You Connect to 90% of the World with Accurate and Effortless Translations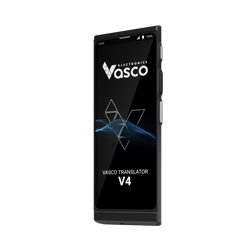 Founder and CEO Maciej Góralski has a passion for travel and medical rescue, which led to the creation of Vasco Electronics.

WILMINGTON, Delaware (PRWEB)
August 11, 2022
From Vasco Electronics comes the next indispensable tool for interacting with our global community – The Vasco Translator V4. The fastest, easiest way to join a conversation, read a road sign, and make meaningful connections with just the press of a button and your voice.
With this innovative design, you don't have to worry about miscommunication or struggling with an English translation book. An essential tool for business trips, holidays abroad or to connect with family and friends in another country. There's no end to all the ways the V4 can bring the global community together.
In addition to the features seen in the M3, this latest version includes a larger screen for easier reading, additional languages ​​in the photo translator and an improved dust, splash and shock resistant design, as well as multi- talk app for you to follow the group chat between all your international friends.
The translator comes with a built-in SIM card for free and unlimited internet access, allowing you to talk with locals quickly and easily without paying for expensive internet in other countries. It can translate more than 70 languages ​​in less than a second with 96% accuracy thanks to the 10 different translation engines. Do you have an important email to translate and send? The V4 lets you translate your message, save it as a transcript, and even send it instantly via email.
Take a photo and translate a menu, a warning sign or a train timetable. Vasco Electronics helps you connect to the world and explore all it has to offer.
Founder and CEO Maciej Góralski has a passion for travel and medical rescue, which led to the creation of Vasco Electronics. The hospital emergency department is one of the areas where fast and accurate communication is essential, wherever you are, at home or abroad. Recognizing the importance of accurate translations, Maciej and his team offer this in a beautiful device that is ergonomically designed, pocket-sized and ready to use right out of the box.
Features at a glance:

Free and unlimited internet for life with a SIM card included. Use your translator wherever you have cell phone reception. No WiFi or smartphone is needed.

Photo Translator – now including 108 languages ​​- take a photo of a sign, menu or newspaper in a foreign language and translate it into your native language in seconds.

Works on GSM networks in nearly 200 countries.

Two-way instant translation in less than 0.5 seconds.

Connect to over 90% of the world's population with over 70 languages ​​for spoken conversations.

96% translation accuracy thanks to the use of 10 different translation engines where the best is chosen on the language pair.

The best pronunciation on the market. The translated text is spoken aloud by a native voice.

Improved microphone specially designed for voice translators, enabling the highest possible speech recognition by eliminating background noise by up to 99%.

Powerful battery – no need to charge your translator every hour, the translator can be used for up to 5 days after being fully charged.

The MultiTalk application allows group conversations with up to 100 people speaking in different languages, the perfect solution for business meetings and conferences and for tour guides speaking to groups of people from other countries.

Set the device to your preferred language using the voice recognition feature.

Choose from six colors (Onyx Black, Pearl White, Stone Grey, Cobalt Blue and Ruby Red).

The Vasco V4 has already won a Red Dot Award in Communication Technology and a New York Product Design Award

Price: $389
The brand is donating $10 from each translator to support Ukraine.
About Vasco Electronics:

Nelson Mandela said, "If you talk to a man in a language he understands, it goes to his head. If you speak to him in his language, it goes to his heart. Our mission is to make people talk to and understand each other. We sincerely believe that communication is the key to making our planet a better place. We create our translators with this thought in our minds and the welfare of the world in our hearts. It's Vasco Electronics. Follow us on Instagram @vascoelectronics.
Share the article on social networks or by e-mail: