Volunteer translator in the alley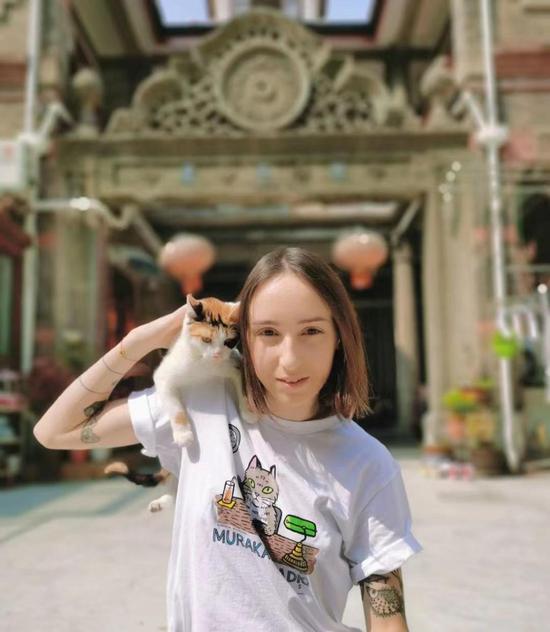 Clarisse and her cat. (Photo provided by the interviewee)
By ZHENG Yingying, Nora
(ECNS) SHANGHAI — Clarisse Le Guernic, a 26-year-old French girl, works as a volunteer at Ruijin road 2, Huangpu District, Shanghai, where she lives. Fluent in French, English and Chinese, she became a volunteer translator in the alley, helping her fellow foreigners overcome everyday communication problems.
Although many social applications now have a translation function, it is not entirely satisfactory. For example, a foreign resident sent a Chinese-translated text (who took my package?) to the chat group, which angered some neighbors a bit. But what he meant was that his package left at the door seemed to be missing. Clarisse quickly told him to type directly in English, and that she would translate it for him to avoid any misunderstanding caused by translation apps.
Clarisse is responsible for looking after the foreign residents of the community. Since the announcements made by the speaker are all in Chinese, which foreign residents cannot understand, Clarisse started volunteering by going door-to-door explaining how to take the PCR test and what they need to do. pay attention.
Later, she added these foreign residents to the community chat group, so whenever a notice is sent, she immediately translates them, keeping the foreign residents updated on the situation.
Clarisse started learning Chinese in the third year of middle school, so she is fluent in Chinese. When Clarisse was 12, in addition to French and English, her school offered another selective language course: Spanish, German or Chinese. During the Chinese trial lesson, Clarisse immediately fell in love with the language, partly because of the interesting teacher. At the time, the teacher said that "very few people chose the Chinese course, so it will be our secret language in school."
As soon as Clarisse started studying Chinese, she couldn't stop. In high school, she always chose Chinese as her second foreign language. For her baccalaureate, she chose to specialize in Chinese in one of the universities in France. In her third year, she transferred to Fudan University in Shanghai as an exchange student. For her first time in Shanghai, she set herself a small goal: "Except for chatting with family members, speak only Chinese at all times."
"I actually already spoke Chinese at the time, but with an accent, so I decided to imitate the locals and I got better," she says. She recalled a group of foreigners from Thailand, Malaysia and Italy getting together to practice Chinese: "I felt like we all invented our own Chinese, there were a lot of mistakes but we didn't care, because we could understand each other's Chinese."
Clarisse said some parents let their children learn Chinese because they believe China is improving and knowing Chinese will give their children a better chance of getting a job. But since she was a teenager, she wanted to live in China, "at first out of curiosity, but later I discovered that I am more confident speaking Chinese, with which I was not afraid to speak to foreigners, and I could just be myself. I thought maybe I would fit in here."
Clarisse is from a coastal town of just 50,000 people in western France, so she understandably doesn't like big cities. When she first arrives in Shanghai, a city of 25 million people with all the buzz of city life, she decides to stay there for a few years and then move to the countryside.
But over time, she discovered that she loved Shanghai's history and architecture and the enthusiasm of Shanghainese. "Sometimes walking down an alley feels like you've left the big city behind. I think of Shanghai as a community of many small villages."
Clarisse wanted to stay in China after college, but found it difficult. "I learned Chinese, but everyone here can speak Chinese, I needed other tools."
So she continued her graduate studies, studying tourism management in France and China. After graduating in 2019, she stayed in Shanghai. At first, she worked for a French tourism company, but the company closed due to the pandemic. At that time, she thought that in this difficult period, it would not be easy to find another job in a tourism company, and she did not want to return to France, so she decided to start her own company.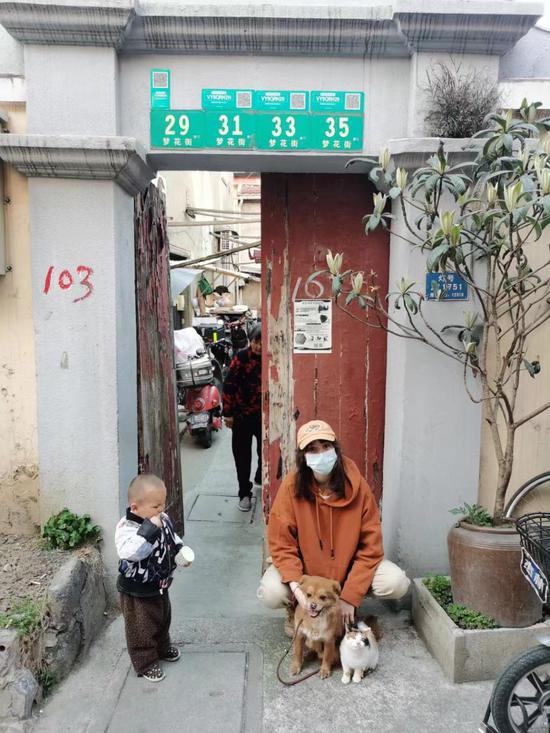 Clarisse with pets in her favorite neighborhood. (Photo provided by the interviewee)
Clarisse started a small business with her friend. They deal with the history, architecture and tourism that she loves so much.
Whether it's walking around the city or exploring narrow alleys, everything she does is related to Shanghai's historical sites and historical figures.
How is entrepreneurship? There is no financial pressure, she said, and she believes that after the pandemic the market will be bigger and there will be more customers.
Clarisse has a Chinese name, 乐盖曦. This name was given to her as a birthday present on her 19th birthday, by a classmate from Shandong Province when she was an exchange student at Fudan University. "This name sounds like my French name, and it matches my personality, I'm very optimistic."
Clarisse lives with her friends in a Shikumen house in Shanghai, where she says she now has an ideal life: feeling free, working for herself and being able to set her own hours. Clarisse likes to travel, adopt pets (she has 1 dog and 3 cats), drive a car in China (she has a Chinese driver's license), make lots of friends (so her parents don't worry that she is alone).
"My life is here. Everyone is entitled to their opinion, but I'm comfortable here," she said.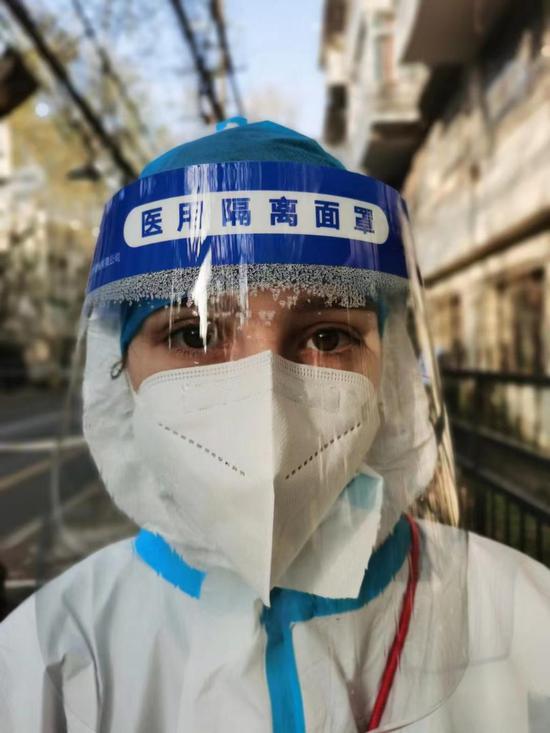 The French Clarisse is volunteering in Shanghai. (Photo provided by the interviewee)